Amanda Scherle
Packaging Lead
F: You lead the packaging operations (canning line) at Fullsteam. Have you yet settled into a routine, or is every day in brewing a new adventure?
AS: After a month and a half of a new adventure with every canning run, I would say that there's finally a little rhythm and predictability to our days in Packaging -- carb delicious beers, put those beers in shiny cans and kegs, rinse (literally) and repeat. We get a few surprises every now and again to keep us on our toes, but no more treks across Middle Earth to destroy the one ring.
At least not this week.

F: What's your favorite (and least favorite) part of the job?
AS: I love the satisfaction of taking a product that our brewers and cellar folks and marketing team have worked so hard to create, and putting it in a form that allows people outside Fullsteam to enjoy it. Seeing those shiny cans all lined up and ready to greet the world pleases my geeky heart.
I love the people I work with, and deeply appreciate their hard work and commitment, and so my least favorite part of the position is delivering bad news in any form. Any time I have to say, "Change of plans, here's more work," I feel sad.
Also, when my arm sticks to my leg, because beer, that's a little challenging.

F: How do you cheer yourself up during COVID-19? Any new hobbies you've picked up?
AS: I started painting (badly) again for the first time since college. I play Arturo's trivia online with friends every week, and do a monthly virtual book club. I also have a small pod of friends with whom I can physically distance and still feel close to people.
And then there's what I think a lot of us have been doing: Avoiding the news when possible, buying questionably useful stuff online, baking, eating a lot, and...beer.

F: If you could travel anywhere in the world right now, where would you go?
AS: Oh gosh. That's hard, because it's hard to associate travel with anything other than pandemic right now. But honestly, if I could sneak myself into New Zealand, I would. FS would need to find a new Packaging Manager, though, because it's so gorgeous and safe there, I might just stay.

F: What's your current favorite Fullsteam beer?
AS: I love the original AFAR because, if you sit in a sunny spot, close your eyes, and sip it slowly, the soft mango and tangy goldenberries transport you to beach side cafes far away. It's tropically delicious.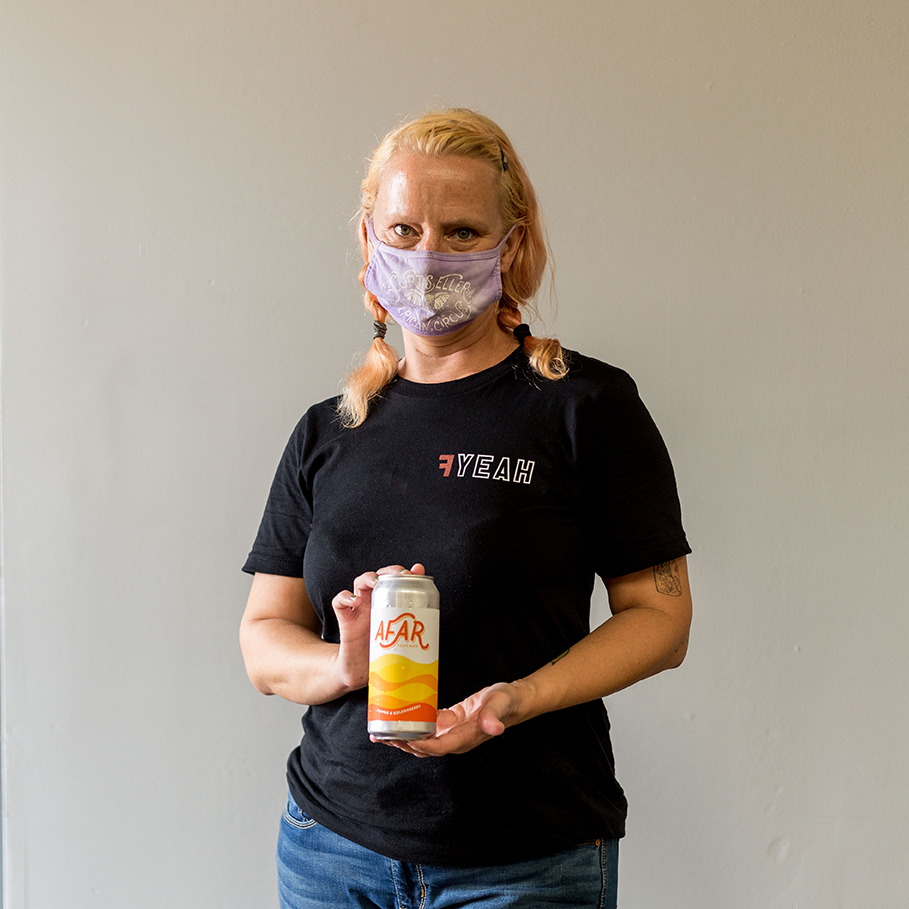 F: What was your first live concert?
AS: Awwww. Embarrassment.
Bryan Adams
. I bought the poster and the t-shirt and the button, and wore them non-ironically for over a year, completely oblivious to my questionable musical tastes.

F: If Fullsteam gave Packaging $250,000 what would you buy and why would it be a new canning line?
AS: I need that laugh-cry emoji for this one. I now feel like the line and I (their name is Lucy-Goosy) have a deeply personal connection borne out of shared trauma. It would be a shame to let that all go.
On the other hand, when we can make this happen? 😃
---
Get to know more of Team Fullsteam!