Amber Milton
PakTech Queen
F: What's a day at Fullsteam like? You offered up your title as "PakTech Queen." Dare we ask what you mean by that?
AM: So far I've learned that beer is very temperamental. It has to be exactly the right temperature and carbonation for it to run smoothly on the packaging side. Each and every day presents a new set of challenges. It's exciting to learn new things every day. At my previous job my nickname was Machine Gun Milton (everything was also done by hand) and I was quite fast at packaging and it did not take long for me to become fast at packaging beer. Behold the title of PakTech Queen. First of her name, the packer of beers, securer of delicious ales, treasurer of precious drink.
F: What's your favorite (and least favorite) part of the job?
AM: The best part of the job is definitely the quality control. Tasting beer fresh from the tank is unreal. There is nothing like it. So tasty. My least favorite part of the job is wrapping pallets. You get real sweaty. Like real sweaty.
F: How do you cheer yourself up during COVID-19? Any new hobbies you've picked up?
AM: Having two small children during a global pandemic has been tough but we took to the great outdoors and with plenty of sunshine and fresh air we've gotten through it together. We traveled to the mountains. Swam in some creeks. And continue to explore new trails.
F: What's your favorite Fullsteam beer these days?
AM: I've been enjoying AFAR 2 (Papaya & Peach)! I love how both of the fruits in this beer complement each other. It's like a tropical paradise in a can. I prefer to pour it in a glass to truly savor all of the flavors in this delicious beer.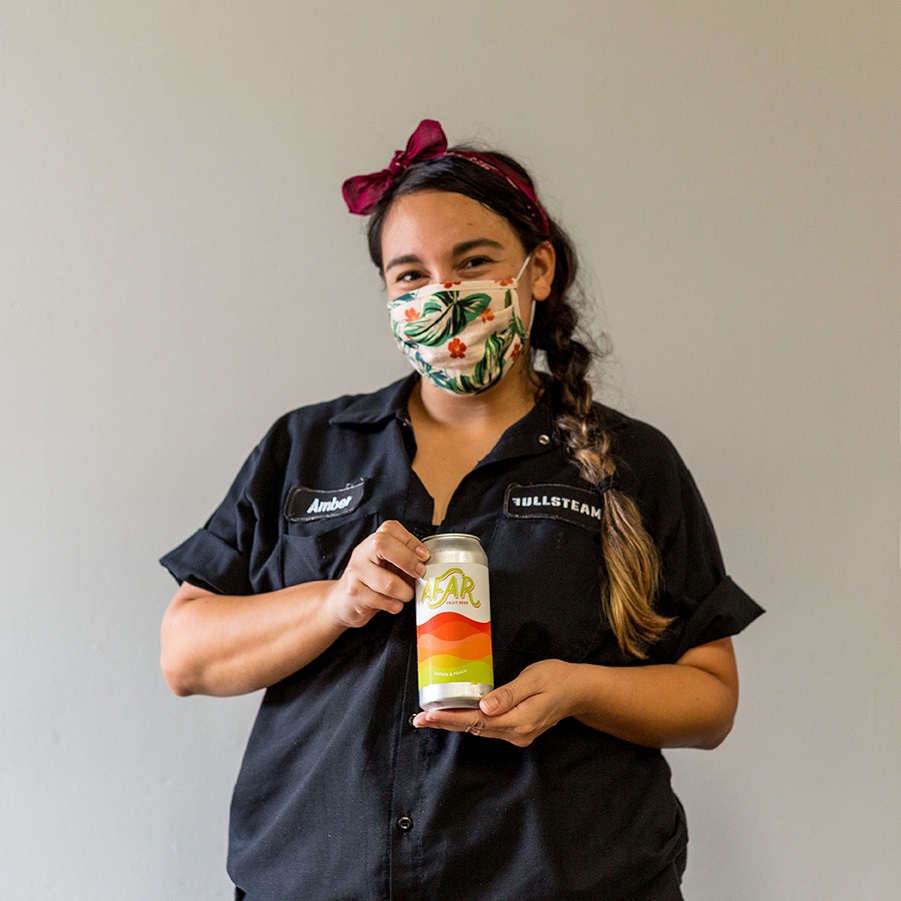 F: If you could travel anywhere in the world right now, where would you go?
AM: I'm a big world history nerd and an even bigger Greek mythology nerd. I would love to travel to Greece and explore all over. For the food, the history, and its beautiful beaches.
F: Packaging has very different musical tastes -- how do you decide what music to play? Who gets to decide?
AM:We all have very similar music tastes. It just depends on the mood of the day. If we need to be pepped up or travel back in time our playlist takes us there. It's much easier to get work done when you're jamming out. Or at least for me it helps get me pumped up and moving.
---
Get to know more of Team Fullsteam!