Hannah Parris
Lead Brewer
F: Welcome to Durham! You've lived in upstate South Carolina most of your life. What's the biggest difference between Durham and Greenville, SC?

HP: I actually think there's a ton of similarities between the two areas. Durham is like Greenville (SC) and Asheville (NC) had a child, and the Bull City got the best of both worlds. There's a lot to do here -- it's vibrant and diverse -- yet there's still a small-town vibe that feels like home to me. I particularly like Durham's live music scene and the Durham Farmer's Market!
F: You've only been with Fullsteam for a few months, but you've already taken the lead on some key projects. What beer or project are you most excited about?

HP: It was definitely trial by fire when I first started, so I spent the first couple of months getting my bearings and learning our system. Now that I'm more comfortable with the brewing, I'm able to think more about creative projects. I'm particularly excited about the upcoming La Frida Mole Stout, since I took the lead on the recipe.
F: Besides the beer recipe itself, is there anything else about La Frida that you're particularly excited about?

HP: I'm an artist, and I've always looked up to Frida Kahlo. So when I learned that Fullsteam was partnering with Cocoa Cinnamon to brew a Frida-inspired beer, I was very excited to help create the recipe. Frida was an outspoken woman before outspoken women were even acknowledged in society.
I've made my own mole before -- even crafting a mole-inspired cocktail at Nosedive, a cocktail bar I worked at it Greenville. It was fun to work Areli on her treasured family recipe. On the beer's page, we don't list all of its ingredients, because Areli's multi-generation mole recipe is a bit of a family secret.
F: What breweries / beers inspire you?

HP: Allagash Curieux, Victory Golden Monkey, Bell's Two Hearted Ale. I have a fondness for classic, timeless, consistent beers.
F: What do you like to do that doesn't involve beer?
HP: Hiking, paddle-boarding with my dogs, and painting. I love buying old paintings at thrift stores and modifying them. (F: you can see Hannah's work on Instagram at @newwasoldarts.)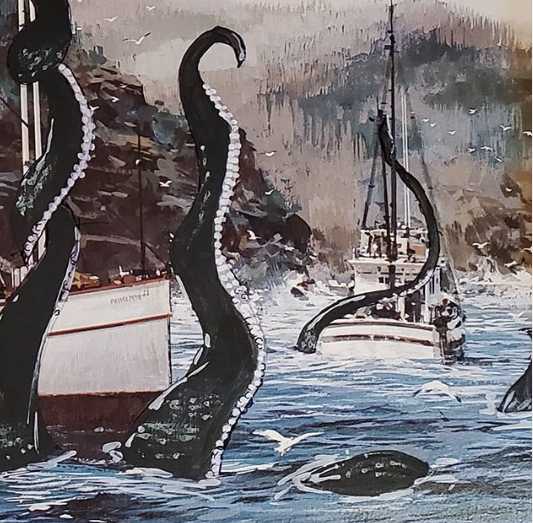 F: What are some of the highlights of your work? Challenges?
HP: I like how unified the team is, across brewing, cellar, and packaging. Across the board, people are positive with a collective pride and good communication. As for challenges, there's always mechanical issues that can really slow things down and sometimes get discouraging. And, early on, it was a bit of trial by fire. But I like being challenged. I'd like to think I rise up to the challenge.
F: That's one of the many reasons we brought you on board! So, who should we profile next?
HP: Interview Manny! He's new to the role of packaging manager. He's stepped up to the opportunity with a fun, positive attitude. Plus, he likes pizza.
F: What song is on repeat for you these days?
HP: "The Joke" by Brandi Carlisle.
---
Get to know more of Team Fullsteam! Look for new profiles as we grow.