Today we're interviewing "California Cool" Tyler Haas, Fullsteam driver and ex-Marine.
F: When I think about driving, I think "unpredictable." Is it more mentally or physically taxing?
TH: I think it's more mentally taxing. For myself, it might not be *as* physically taxing, because I'm a 6' 2" specimen (editor's note: I'm just leaving this in here, y'all). There's just a ton of things you need to always be thinking about: restaurant delivery times, who to talk to, where to park to not get tickets -- things that sound simple, but take a lot of practice and brain power to get right.
F: I always think of driving as an extension of the sales team. Do you agree?
TH: I do. A lot of accounts think of me as a Fullsteam sales person, even though they place their order through the sales team. But a lot of times people will order through me...and sometimes I'll complete an order on the fly while I'm delivering. Deliveries and sales are definitely closely related.
F: Why do you think Fullsteam self-distributes?
TH: It's part of the mission of Fullsteam. It's a great way to connect with accounts, and really, Fullsteam is local as local can get. If Fullsteam didn't self-distribute, it'd be weird. Know what I mean?
F: I do! Where could we could improve?
TH: I think we're pretty efficient as a delivery team. but everybody knows that our first van has been there, done that, and got the t-shirt. Maybe time for a little upgrade?
F: Heard on that. So...what Fullsteam beer are you drinking these days?
TH: Top five favorite beer ever is Dinnsen's Orchard (note: a 2018 Good Food Award winner!). Something about that beer blew my synapses. Since we haven't brewed that beer in a bit, my go-to these days is either Carver or Brett Lager.
F: We're releasing this chat on Veteran's Day. How long were you in the service?
TH: I was full-time active duty in the Marine Corps from 2014 to 2018. I came straight out the military with the intent to work at a North Carolina brewery.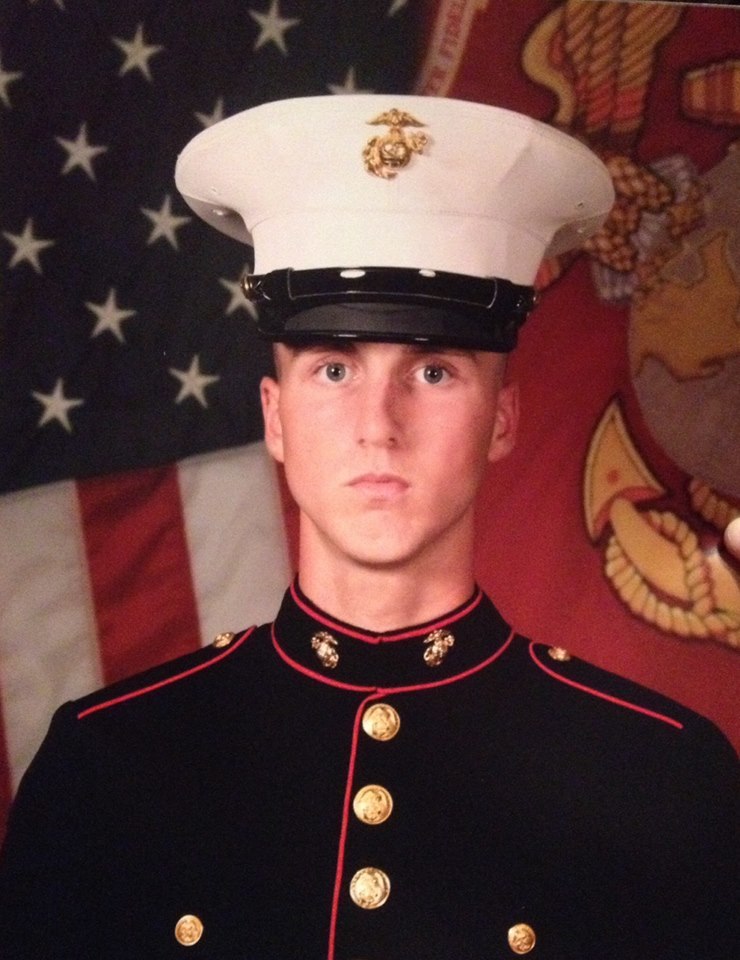 A very young California Cool
F: Where did you travel when you were in the Marines?
TH: I traveled to Spain, Greece, Ethophia, Djibouti, and Jordan. I got to see Petra, which was amazing. Dubai was one of the most amazing places I've ever been. Blew my mind.
F: You strike me as a chill, easy-going guy. How did that work for you in the Marine Corps?
TH: Yeah. My nickname was California Cool, even though I grew up in way northern New York. I got a lot of crap for my relaxed demeanor in the Corps, but I could (and can) notch it up if needed. I don't know where it all comes from...my family is pretty boisterous!
F: And the question that everyone is anticipating...what are you listening to on repeat these days?
TH: On repeat right now: HAIM "Now I'm In It." That said, there's no other band I'd rather have on continuous repeat than Fleet Foxes.

Many thanks to California Cool Tyler Haas for his time -- and his service to our country!

---
Get to know more of Team Fullsteam! Look for new profiles as we grow.