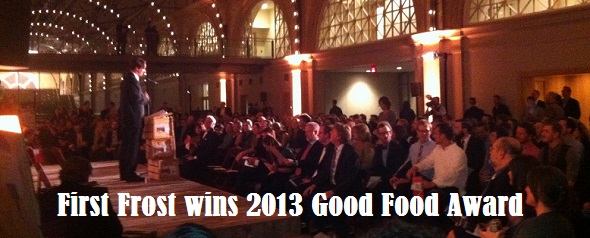 We are thrilled to report that First Frost, our winter ale made with native foraged persimmons, won a 2013 Good Food Award! Head Brewer Chris Davis and I were able to attend the ceremony, held last night at the landmark San Francisco Ferry Building.
It was a frenetic, memorable black tie affair full of great moments...and not a ton of pictures on our end. Hopefully we'll track down some good shots of the ceremony to share with you.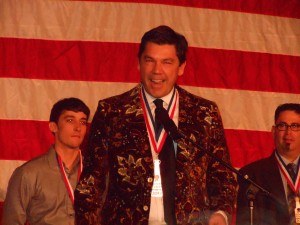 I was honored to address the crowd on behalf of the fourteen other brewery winners (Christian Ettinger of Hopworks Urban Brewery was selected as the brewery representative but was unable to attend last night's event).
It was also the first time I was able to taste this year's First Frost! The beer was still being bottled and kegged on Tuesday when I left. This year's version is smooth, spicy, fruity with a hint of cocoa (at least that's what I got when I tried it last night). The 10% winter warmer will be available in 750ml bottles and on draft in the Triangle, Charlotte, Greensboro, and a few other select locations.
We are extremely grateful to the Good Food Award leadership, committee members, and judges. As I said in my speech last night, "by including beer as a Good Food category, you help us further distance our craft from the stale Wonder bread era. Your foresight validates the claim that, in the words of Bay Area favorite and 2012 Good Food Award finalist Almanac Brewing Company, 'Beer is agriculture.'"
Of course, this is all made possible by one simple fact: YOU support our beer. Without customers, Chris and I wouldn't be able to build a business and craft a beer from native persimmons...and all the other unusual and traditional ingredients we rely on at Fullsteam. Thank you for supporting our vision and our craft.