Fullsteam brews distinctly Southern beer that fosters agricultural pride and prosperity in a post-tobacco South. By buying local to brew local, we aim to improve the quality of life of local farmers, foragers, and agricultural entrepreneurs. We seek to pioneer a Southern Beer Economy...one pint at a time.

We specialize in:
Since launching in 2010, Fullsteam has purchased over $500,000 in Southern-farmed ingredients, from barley to black walnuts. Each beer's page includes a "% Local" (% L) and lists the farms that make the beer, ranging from 10 to 100 percent local. As a Craft Malt Certified brewery, we are committed to sourcing 10 percent or more grains from a certified craft malt house in every beer we brew.
Fullsteam expresses our love for land and community by prioritizing local -- an intentional mission to favor seasonal harvests from Southern farmers, grain from area malt houses, and hyper-local foraging finds.
In a post-tobacco South, we believe truly Southern beer is a new pathway to enrich local farms and encourage agricultural entrepreneurship. That crop diversity is infinity better than monoculture. And that wandering and foraging the land makes us kinder people, connected to the land and to one another.
That's our mission. We just happen to express it through a diverse range of award-winning traditional, seasonal, and wild beers.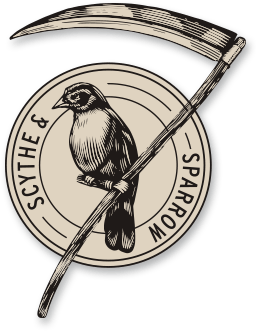 Fullsteam's Exclusive Beer Club
Scythe & Sparrow
Welcome to the Scythe & Sparrow, Fullsteam's tavern-focused membership club.
Scythe & Sparrow members enjoy a 20-ounce pour for the cost of a sixteen-ounce pint, a 20% discount on food, beer-to-go, and merchandise, first dibs on seasonal bottle releases, and members-only shenanigans. The cost for a twelve-month membership is $59 and $99 for couples.
Membership is valid for a year from your registration date.