Fullsteam is excited to head to the nation's capital for ChurchKey's first-ever Inaugural Brewer's Ball. Word enthusiasts will delight in the fact that this is, in fact, the Inaugural Inaugural Ball.
On Monday, January 21, we will join nine other breweries in a festive celebration of beer and politics. I understand (and respect) that not all of you are of the same mind when it comes to politics and policy, but I think we can agree on one thing: good beer brings good people together. And, after all, it is the intersection of politics and beer that first got me into the craft beer industry. So I am doubly excited about this great event.
If you're in the D.C. area, come join us for an amazing evening. RSVP and event details from Churchkey's Greg Engert below.
----------------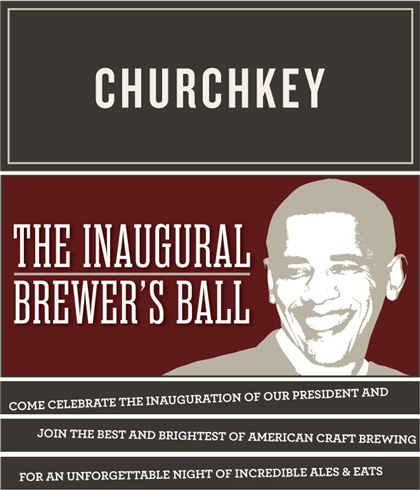 The Inaugural Brewers Ball at ChurchKey
Ten of the Nation's Best & Brightest Brewers
Fifty-Five Taps Sporting Their Wares
Five Hours of Hedonistic Inaugural Fun
Monday, January 21 Beginning at 8 O'Clock
Once every four years, the nation turns its eyes toward Washington full of renewed hope - collectively optimistic for another chance to do better. Closer to home, this occasion is marked by red carpets, glitzy gowns, long limos, jaw-dropping price per plates and celebrity spottings galore. Yep, we're talking about the Presidential Inauguration. As much as we respect tradition, and we do - we thought we'd take a different route and use the 57th Inauguration as an excuse to throw an incredible beer bash and tip our hats to our very own commanders and chiefs: We're talking about fine craft brewers of this great beer drinking nation. As a home-brewer, we think the President would approve.
On Monday, January 21, ChurchKey's Inaugural Brewers Ball will bring together some of the brewing community's brightest stars including Rob Tod of Allagash Brewing Company, Sean Lilly Wilson of Fullsteam, Dan Kopman of Schlafly Beer, Tim Adams of Oxbow, and David Yarrington of Smuttynose, as well as, Mark Thompson of Star Hill Brewery, Jim Caruso of Flying Dog Brewery and Hugh Sisson of Heavy Seas. Also in the house: home team heroes like DC Brau's Brandon Skall & Jeff Hancock and 3 Stars Brewing Company's Dave Coleman & Mike McGarvey, all of whom will show off their finest ales on the ChurchKey taps for the night.
This is an amazing opportunity to taste some seriously rare brews including Allagash FV-13, Bam & Bat, DC Brau's debut of Barrel-Aged Ghouls Night Out, Smuttynose 2010 Barrel-Aged Baltic Porter, Fullsteam Fruitcake...The Beer, 3 Stars Global Pandemic, Oxbow Noel 2012, Heavy Seas Barrel-Aged Siren Noire, Flying Dog Galaxy Single Hop Imperial IPA, Starr Hill Belgian Strong Ale and Schlafly Single Malt Scottish Ale on draft.
Guests will get to mix and mingle with this talented lot of brewers while enjoying their wares and will also be treated to an endless parade of stationed and passed bites from Executive Chef Kyle Bailey & Pastry Chef Tiffany MacIsaac, ranging from oysters and charcuterie to Brat Burger sliders and flatbreads.
DETAILS: Tickets are $150 per person and include all food and beverage. Capacity is limited, so tickets must be purchased in advance by calling (202) 567-2576. For more information please visit www.birchandbarley.com.
The Brewers Ball Draft List, So Far...
FULLSTEAM
Fruitcake...The Beer
2012-13 First Frost
2011 First Frost
Hogwash
Cackalacky! Ginger Pale Ale
Working Man's Lunch
ALLAGASH
FV-13
Bam
Bat
Smoke & Beards
White
SMUTTYNOSE
Durty
Homunculus
2010 Oaked Aged Baltic Porter
Strawberry Short Weiss
Finest Kind IPA
OXBOW
Noel 2012
Freestyle #12 - IPA
Freestyle #13 – Blond Saison
Farmhouse Pale Ale
Space Cowboy
DC BRAU
Barrel-Aged Ghouls Night Out
On the Wings of Armageddon
The Public
The Corruption
The Citizen
3 STARS
Global Pandemic (Barrel-Aged Pandemic)
Southern Belle
Sea Change
Winter Madness
Peppercorn Saison
Ebony & Ivory (Cask)
SCHLAFLY
Single Malt Scottish Ale
Rauchbier
Kolsch
Tasmanian IPA
Biere de Garde
FLYING DOG
Horn Dog 2013
Barrel-Aged Gonzo 2013
Chipotle Dark Ale
Single Hop Imperial IPA: Galaxy
Gruit Ale
HEAVY SEAS
Barrel-Aged Siren Noire
Loose Cannon
Peg Leg Imperial Stout
Black Cannon
Small Craft Warning
Bourbon Barrel-Aged Peg Leg Imperial Stout (Cask)
STARR HILL
Northern Lights IPA
The Gift
American Barley Wine
Belgian Strong Ale
Cryptical