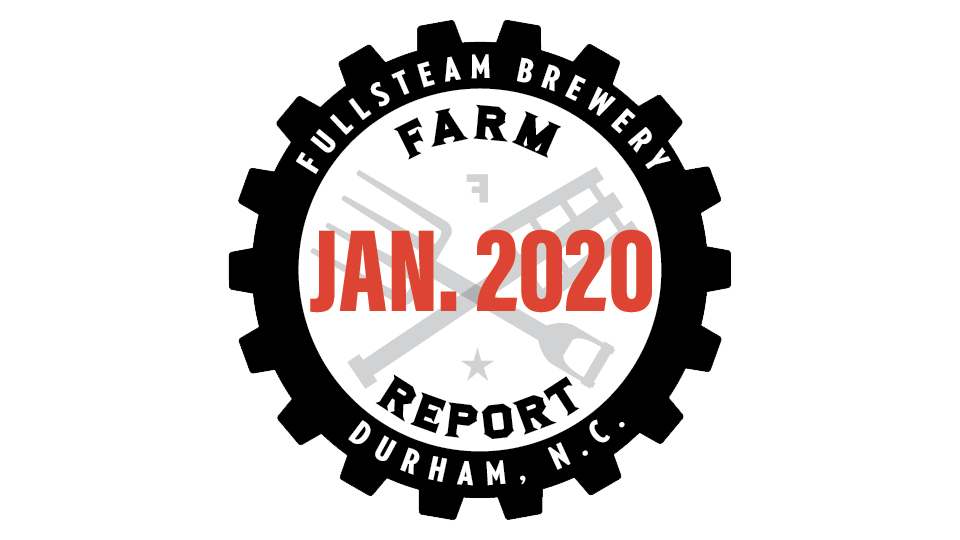 FULLSTEAM: JANUARY 2020 FARM REPORT

PIONEERING A SOUTHERN BEER ECONOMY
Since launching in 2010, Fullsteam has purchased over $500,000 in Southern-sourced ingredients -- primarily from North Carolina farms.
To start out the new year, January's Southern farm purchases -- 3.48 tons and over $7,000 in Southern ingredients -- consisted mostly of North Carolina grains for core beers, a couple of modern IPAs, a witbier, and a kettle sour.
For our upcoming Tuxpeño cream ale, we were excited to purchase Tuxpeño -- a heritage, landrace corn locally farmed in Eastern N.C., collected by Farm & Sparrow in Western N.C., and locally malted by our friends at Epiphany Craft Malt.
Fullsteam is a Certified Craft Malt Brewery, committed to sourcing 10 percent or more grains from a certified craft malt house. Learn more about this program at the Craft Malsters Guild.
SINCE LAUNCHING IN 2010

$521,585.48 Southern-farmed ingredients, totaling
555,321 pounds (278 tons)

JANUARY 2020 DETAILS
In January 2020, Fullsteam brewed:
Tuxpeño cream ale
UV-6
a modern IPA w/ Barbe Rouge & African Queen hops
Spending $7,163 on 6,960 pounds of Southern-sourced:
Carolina Malt Vienna
Epiphany Braumalt
Epiphany Foundation (2-Row)
Epiphany NC Triticale
Epiphany Wheat
Epiphany Malted Corn
---
NOTES

Fullsteam defines "Southern" as the swath of land from Washington D.C. to Louisiana. That said, North Carolina farms, maltsters, and foragers account for the vast majority (>95%) of these Southern ingredients.
For the purposes of this report, we only include grains farmed and malted in the South.
To find each beer's percent local by weight, look for the "% local" designation on the beer label or its entry on our website.