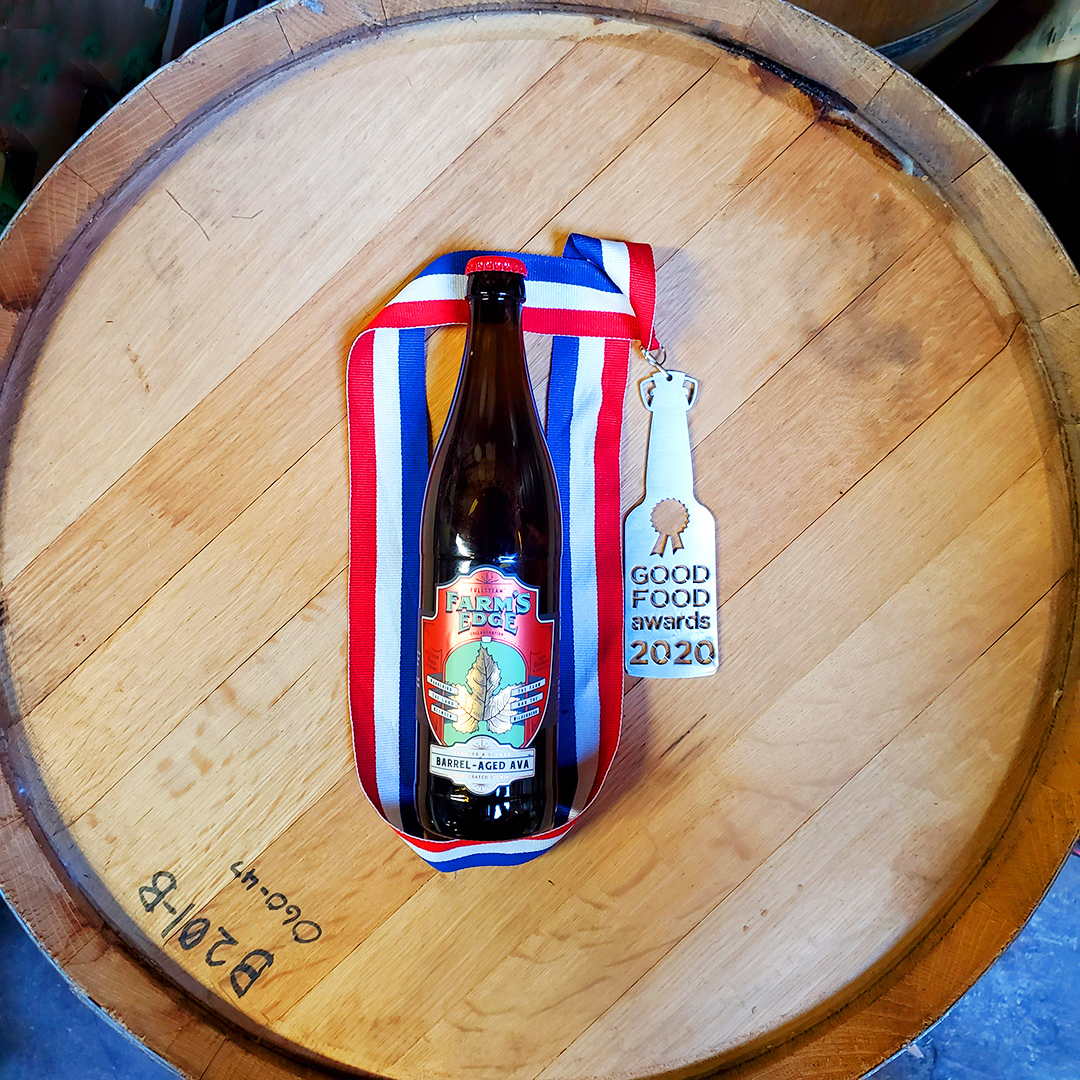 Farm's Edge: Barrel Aged Ava wins a 2020 Good Food Award!

This 100% local collaboration with Scratch Brewing is our seventh Good Food Award
We're thrilled to share that we won a 2020 Good Food Award for our Farm's Edge: Barrel-Aged Ava, a mixed-culture saison brewed in collaboration with Scratch Brewing (Ava, I.L.). This is our seventh Good Food Award win, making it one of the most awarded breweries in the ten-year history of the Good Food Awards.
Farm's Edge: Barrel-Aged Ava is brewed with all North Carolina ingredients: wild grape leaves collected by Scratch's team en route to Durham; locally foraged North Carolina elderflower gathered by both breweries; Fullsteam's own house mixed culture; and spelt, triticale, and barley from North Carolina's three malthouses. The beer then rested over a year, first in stainless tanks, then red wine barrels.

We remain the only North Carolina brewery to ever win ­­a Good Food Award, which recognizes "tasty, authentic, and responsibly produced" food and beverages. Now in its tenth year, the Awards received over 2,000 entrants and honored 200 winners across seventeen categories.

"This beer was a labor of love…a love for the land and for the brewing process," said Sean Lilly Wilson, Fullsteam's Chief Executive Optimist. "I'm deeply grateful to Marika, Aaron, and David (of Scratch) for collaborating with us. I'm especially proud of how this beer combines our love of foraging with our passion to support North Carolina farmers and maltsters."
ONE FINAL KEG…AND A GATHERING OF NORTH CAROLINA'S FINEST
On Saturday, February 1, 2020, Fullsteam Brewery will tap its final keg of Farm's Edge: Barrel-Aged Ava. More importantly, from 2 to 5 p.m. that day, the Durham brewery will host over a dozen North Carolina Good Food Award winners and finalists (past and present) at a mini-marketplace, where patrons can sample and shop among many of the Old North State's Good Food Award honorees.
Confirmed participants include 2020 Good Food Award winners Fiddlehead Farm (Pittsboro), Haw River Mushrooms (Saxapahaw), Mrs. Ruth's Jams (Apex), TOPO Distillery (Chapel Hill), and Videri Chocolate Factory (Raleigh). All are welcome at Fullsteam, 726 Rigsbee Avenue, Durham, N.C. 27701.

ABOUT SCRATCH BREWING COMPANY
Scratch Brewing Company is a farmhouse brewery located five miles from the Shawnee National Forest in Ava, Illinois. Named one of the top four breweries for foraged beer by Outside Magazine, and one of the most beautiful places to drink beer in the world by All About Beer Magazine, Scratch Brewing Company focuses on farmhouse beers and other styles brewed with homegrown and locally farmed and foraged ingredients. Learn more at scratchbeer.com.