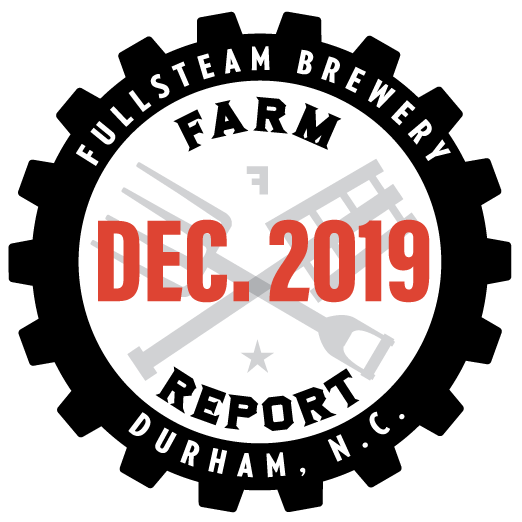 FULLSTEAM: DECEMBER 2019 FARM REPORT
(and year-end summary)
BUILDING ON OUR MISSION
We brewed around 8,500 barrels in 2019 (around 263,000 gallons). Same as last year. We're at brewing capacity...we can't squeeze much more beer out of our space.
Though we didn't make more beer in 2019 than in 2018, we increased our total volume (weight of materials) of Southern-farmed goods by 22%. And we increased our spending on local ingredients by 12%.
That's 62 tons and nearly $125,000 of local, Southern ingredients...more than we spent on Southern-farmed inputs in our first five years in business.
GRAIN LEADS THE WAY
These days, Fullsteam drinkers generally want more of two things: consistent access to our core, year-round beers (Paycheck, Humidity, and Rocket Science) and more hazy IPAs. We're seeing less movement of esoteric beers with unusual adjuncts (persimmons, paw paw) unless they're folded into popular styles like IPA. Didn't see your favorite locally-sourced beer? Wondering where the Farm's Edge beers are? It's because we're at capacity, working hard to keep up with beers that we have to keep in-stock...and that we know people want.

Candidly, capacity constraints -- and the lack of a small pilot system -- make it hard for us to brew passion project beers that we love, but we know will move more slowly. We're hopeful we can access or afford a small R&D system so we can diversify our commitment to local.
The result is that grain represents an astounding 88% of our Southern-sourced ingredients. Value-added adjuncts (coffee, cocoa) account for 4%, fruit and herbs 3%, foraged ingredients 2%, and sweet potatoes 2%.
THE FUTURE: DIVERSIFICATION?
We have more access to many local ingredients than we have demand or need. At least in beer. Once we address our brewing capacity constraints, we'll turn our attention to other ways we can continue to purchase and use awesome ingredients like chestnuts, persimmons, and seasonal fruits.
"IF IT WERE JUST US"
Fullsteam is not the only Southern (or North Carolina) brewery committed to local. We present these investments in local to be accountable, transparent, and to encourage all breweries to consider local purchases.
I've often said that our passion is to pioneer a Southern Beer Economy, and economy means it's a collective of businesses with a common pursuit. If it were just Fullsteam chasing down local ingredients, it'd be a Southern Beer Business.

We make no claims of size or scope. We're proud of the chance that we took on local, from Batch 1 in July 2010 (Southern Basil, brewed with N.C. wheat and local basil) to the South's first foraged beer (First Frost, brewed with wild persimmons). Both of these beers won Good Food Awards, with that first-ever beer of ours winning just this past year.
We're thrilled others have joined us in this passion for local. Together, we can truly realize this vision of a Southern Beer Economy in a post-tobacco North Carolina.
Every year since 2011, Fullsteam has increased its spending on local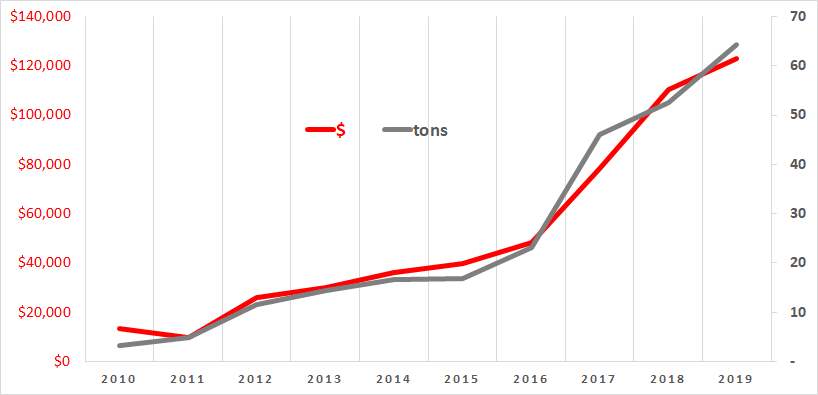 2019 FINAL TOTALS
$122,870 in Southern-farmed ingredient purchases
up 12% from 2018
128,660 total pounds (64.3 tons)
up 22% from 2018
SINCE LAUNCHING IN 2010
$514,420 Southern-farmed ingredients, totaling
507,500 pounds (254 tons)

DECEMBER 2019 DETAILS
In December 2019, Fullsteam brewed:
a still-to-be-named Chocolate Fruited Pastry Sour
a still-to-be-named Hazy IPA w/ sexy hops
Spending $9,157 on 9,622 pounds of locally sourced:
Epiphany two-row barley
Epiphany NC triticale
Riverbend Heritage malt
Muddy Dog coffee
Videri cocoa nibs
Epiphany Braumalt Honey - Extra Light Amber
Epiphany Wheat
Epiphany Vienna
Epiphany Chocolate
Serviceberries
Blackberries
---
NOTES

Fullsteam defines "Southern" as the swath of land from Washington D.C. to Louisiana. That said, North Carolina farms, maltsters, and foragers account for the vast majority (>95%) of these Southern ingredients.
The report includes a small portion of ingredients not grown in the South (cocoa nibs, coffee), but sourced from value-added Southern suppliers (e.g., Videri Chocolate, Little Waves Coffee Roasters).
For the purposes of this report, we only include grains farmed and malted in the South.
To find each beer's percent local by weight, look for the "% local" designation on the beer label or its entry on our website.