NOTE: this 2013 post took some time to craft, and much of it holds true this year. Persimmons are already ripening, and we're buying! $3 a pound for squishy, ripe goodness. Read below for the details!
Thank you,
Sean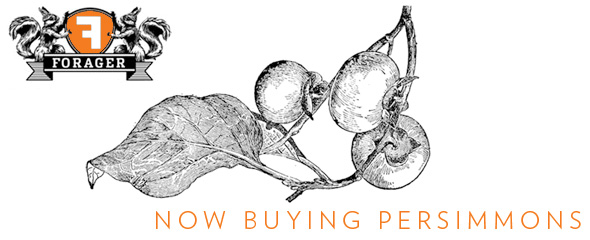 Our 2013 Good Food Awards-winning winter ale, First Frost, relies on native persimmons for its complex spice character. If you're not familiar with this wonderful autumn fruit, we'd love to tell you about it. Persimmons grow in the wild and along property lines. Diospyros Virginiana is a hardwood tree that bears small fruit from now until late fall. The fruit itself is a bit of mischief-maker: ask anyone whose dad or uncle told them to bite right into one. The unripe persimmon fruit is terribly astringent. It's like eating felt.
But if you can wait until the fruit is really ripe ("squishy" is really the only appropriate word here), you're in for a treat. I describe persimmons as "apricot meets pumpkin butter." For me, it's the flavor of autumn.
The beer's name -- First Frost -- draws from the Southern legend that persimmons aren't ready until after the first frost. If tonight is any indication, frost is certainly near. Persimmons are on their way. How cool is it that there's a fruit just now ripening? I just think that's excellent.
WE BUY THEM FROM YOU
If you have access to native persimmons, we'll pay you for your harvest. It's part of our Forager initiative, where we seek to involve our local community in the beer-making process. Last year's First Frost incorporated 550 pounds of native and farmed persimmons...money we gave right back to our foragers and farmers.
Starting this week, we invite you to bring your clean, washed, ripe native persimmons to the tavern between 9 and 5 p.m. weekdays. We'll weigh your harvest and pay you $2.50 a pound.
Here are some helpful hints so that we can pay you:
Be sure you're picking persimmons! Here's a handy guide to the native fruiting tree.
Please remove the calyx.
We cannot purchase hard persimmons. Know the fruit...the best persimmons are either on the ground or fall from the tree with a gentle shake. If you want to know the difference between a ripe and unripe persimmon, eat a hard one. You'll quickly learn the difference. Obviously we don't want those. Click here if you'd like more information on how to tell if a persimmon is ripe.
Don't want the money from your harvest? We will donate the proceeds we would have given to you to SEEDS, a Durham non-profit community garden.
Our goal is to engage you in the local harvest…not for you to buy California persimmons at the grocery store. Enjoy the spirit of the Forager Collective, and participate if you can. Don't trespass. Fullsteam isn't responsible for injuries. And we reserve the right to refuse the harvest. You know how it is.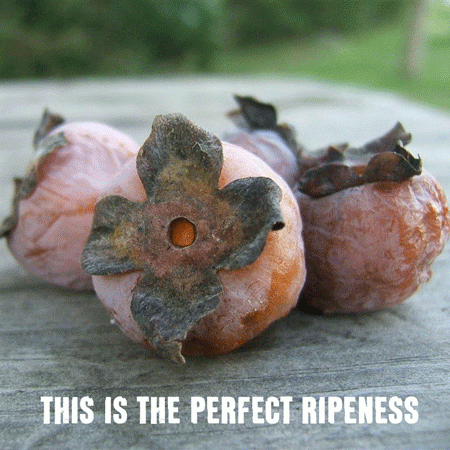 FORAGER RECAP
We'll buy native persimmons from 9am 'til 5pm Monday through Friday. Come in to the brewery through the tavern area and ask for Mary Beth or Sean. If neither of us are there, one of the brewers may be able to help. But start with MB and Sean first.
We'll pay you $3.00 a pound if we can use them.
We reserve the right to refuse the fruit, either because of the quality or because we have enough.
The collection will run until at least November 15th.
Go find (and harvest) a persimmon tree, even if you end up using the fruit all for yourself! It's good for the soul, tasty, and the fruit is really good for you!
A SHIFT IN AVAILABILITY
While we're going to brew First Frost after the persimmon season, we're not going to release the beer until after it's aged over six months. Since 2010, we've released First Frost around Christmas -- two months after that First Frost. Sales are good in December, but frankly, the beer doesn't sell as the weather turns from winter into spring. For better or for worse, seasonal beer sales are more about anticipating the season rather than reflecting the harvest. After all, pumpkin beers first popped on the store shelves in mid-July.
But perhaps more importantly, First Frost is better with some age on it. At around 10% alcohol, the beer needs some time to mellow.
So for the first time ever, we're brewing First Frost from last year's persimmon harvest. The fruit you bring to us this season will be incorporated into the 2015 batch.
LIKE TO LEARN MORE ABOUT PERSIMMONS?
I've linked to this before, but I really enjoyed writing these blog posts on persimmons, written when the brewery was in build-out. I've been disappointed in my inability to keep up with writing, which I truly love. I'm hopeful that I can get back to chronicling our adventures. Running a brewery takes a lot of energy and focus, and I've let my writing fall by the wayside. These previous essays are a personal favorite. If you have a moment, check them out.
Bonus reading, if you're as interested in persimmons as we are!
an excellent descriptive overview of persimmons by Slow Food USA
this story by Our State, which (accurately) describes the persimmon as "our most peculiar fruit"
DRAFT magazine's coverage of Fullsteam's persimmon harvest and the Forager initiative
WHY WE DO WHAT WE DO
The Forager initiative has two goals: to involve the community in the beer-making process, and to connect people with what grows here in North Carolina. We use craft beer as a tool for conversation. In other words, some folks find out what persimmons are because they've had First Frost. That's really exciting for us...that beer can open the door to a deeper knowledge and appreciation of the good things that grow in the verdant South.
I'll wrap up with a quick story.
Last year, a tavern patron told me that she had never heard of persimmons before trying First Frost. She loved the beer and wanted to try the fruit itself. A few months later, planted two persimmon trees in her backyard.
That made me so happy. That's what it's all about.
This beer makes me happy. Let's brew it together.