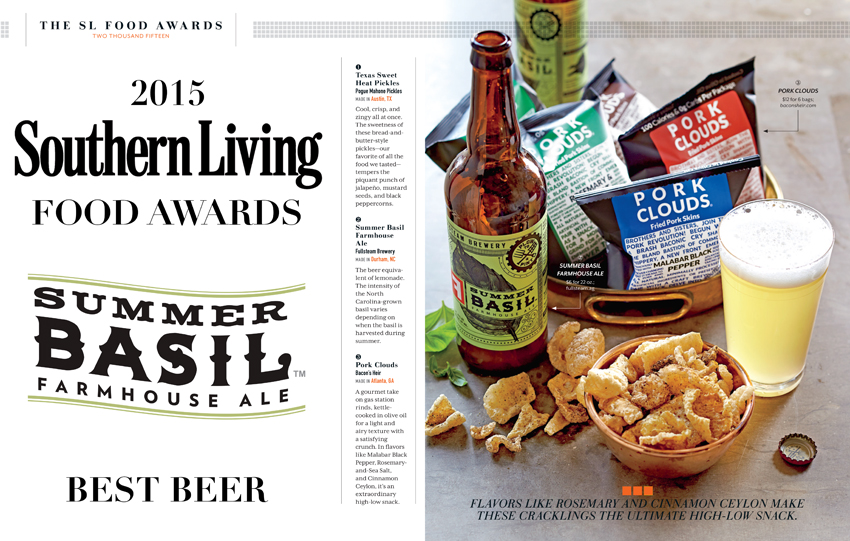 Friday evening of Memorial Day Weekend is right up there with July 4th, Thanksgiving, and Christmas as one of the worst times to make a big announcement. But the June print edition of Southern Living just arrived in my mailbox, and I'm stoked beyond words to share the news.
Fullsteam Brewery's Summer Basil Farmhouse Ale won Best Beer in the first-ever 2015 Southern Living Food Awards! The Southern Living test kitchen taste-tested over 300 artisan products, choosing 24 of their favorites. (Tough job, that taste-testing!)  Their favorite beer of the bunch? Our own Summer Basil!
We're extremely proud to be in such good food and drinks company, sharing honors with our Durham homies Big Spoon Roasters (oh hai Mark!) and fellow North Carolinans Cloister Honey (Charlotte). As well as a bunch of other products we love, speaking from first-hand experience/indulgence. 
Touted by the magazine as "the beer equivalent of lemonade", Summer Basil is an ever-changing feast for the senses. Over its five-month window of availability, the beer shifts from subtle and floral (May) to vibrant and punchy (July) to woodsy and peppery (September). From its local wheat and ever-evolving basil, our signature farmhouse ale reminds drinkers that farm drives flavor, and that subtle variation can be a beautiful thing.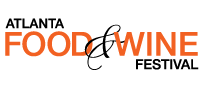 WE'RE CELEBRATING IN ATLANTA!
As part of the 2015 Food Awards roll-out,  Southern Living has invited Fullsteam to showcase Summer Basil at next week's Atlanta Food & Wine Festival. If you're attending the festival, come check us out on Friday afternoon at the Southern Living tent. I'll be there pouring beer and giving out free high fives.

WE'RE SWITCHING TO CANS!
Boy oh boy that's a sweet picture, y'all. I do love that glass bottle. But in an effort to scale our beer and give customers what they've been asking for, we're switching Summer Basil from 22-ounce bombers to four-pack 16-ounce cans. That glass is pricey, and frankly, the beer really belongs in a can, for multiple reasons. Chief among them: cans help us lower the cost to you -- a four-pack of Summer Basil is three times the beer for around 1.5x the price. Huzzah for value!
Look for cans starting in mid-June. We're waiting to can the beer until its brewed with North Carolina basil. For these first two batches, we've used greenhouse basil from our neighbors to the north. If it's officially summer and you don't see the beer at your local retailer, you have our permission to bug them and ask that they carry this Southern Living award-winning beer! Send them this link! Heck, I'll even make a bit.ly out of it!
It's truly an honor to receive this recognition from such a respected magazine. Summer Basil was the first beer we ever brewed on our system. At the time, nearly five years ago, we thought this beer would be a one-time test batch, brewed only to ensure our brewing system was running smoothly. As you can see -- and thanks to Southern Living -- the beer has taken on a life of its own. We're thrilled to witness its own evolution, like summer basil itself, approaching full bloom and beauty.
Optimistically,
Sean