Fullsteam was fortunate enough to pour beer for the Southern Foodways Alliance symposium in Oxford, Mississippi. This is the second year we brought our homebrew to the SFA.  Many thanks to John T. and Mary Beth for inviting us and for all their hard work in pulling off such an amazing conference. 32 couldn't make it due to family obligations; lucky for me, the intrepid Varmint helped us out tremendously -- not just pouring beer, but setting up in the pouring rain.
What is the Southern Foodways Alliance?
The SFA brings together food writers, chefs, historians, and various hangers-on like brewery owners. The mission, straight from their website, is simple:
"the Southern Foodways Alliance documents, studies, and celebrates the diverse food cultures of the changing American South."
I really like that they emphasize the changing American South. It suggests two things: 1)  the South is dynamic and evolving, and 2) we have a responsibility to capture (and an opportunity to celebrate) what makes the South unique.
Why was Fullsteam at the SFA?
Fullsteam's mission is to develop a distinctly Southern beer style. We seek to re-establish the connection between beer and agriculture. We celebrate the South's rich farming history as we look to invent a new Southern beer tradition. In other words, Fullsteam embodies the SFA's "changing American South."
Also, we also get to enjoy the company of chefs, foodies, historians, and writers who share a common interest.
Oh, and it's a boatload of fun. Though truth be told, my focus was pouring beer for Friday evening's event and spending time with family on the weekend. I missed a lot of the seminars and sessions. From what I heard from attendees and what I followed on Twitter, the conversations were as good as the food.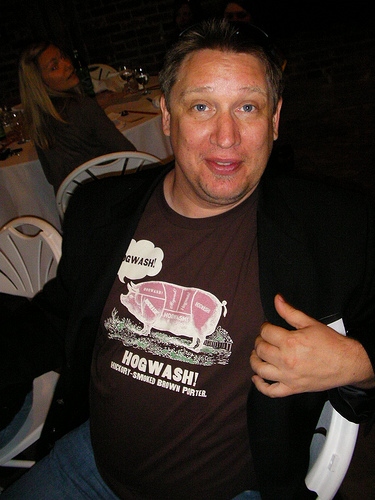 Beyond the Mason-Dixon line
As I wrote over two years ago, Oxford is "the South's South," and the perfect background for this annual exploration and celebration of Southern food. But this isn't a club restricted to residents below the Mason-Dixon line. On the contrary, it was interesting to note the presence of highly-talented chefs outside of the South, particularly New York City: David Chang of Momofuku. Kenny Callaghan of Blue Smoke. Elizabeth Karmel of Hill Country. RJ Cooper of DC's Vidalia.
North Carolina represent!
That said, the South was well-represented -- particularly North Carolina. I got to hang out with my old bosses, Ben and Karen Barker of Magnolia Grill. Phoebe Lawless of Scratch! Ashley Christensen of Poole's in Raleigh! Bill Smith of Crooks Corner! Sara Foster! I even met Amanda Kingsbury (spouse of Seth Kingsbury, chef/owner of Pazzo! in Chapel Hill) -- Amanda and I worked together back in the day at Magnolia Grill.
I don't mean for this to come across as name-dropping; I just really enjoy these people. This wasn't a snobby foodie conference. Quite the opposite. Plenty of dancing, singing, good eating, good drinkin', and laughter.
FRIDAY: (our) main event
My focus and attention was on the Friday outing to the lauded catfish emporium of Taylor Grocery in Taylor, Mississippi - about ten minutes from Oxford. I've been to Taylor and bunch, and I've seen the place evolve from dingy and dank (but full of character) to cleaner, brighter, and more efficient (yet retaining its charm). The restaurant is now notorious for long waits and strict seating policies, though this time the establishment was closed to the public. Yep, on a Friday night.
I had just enough time to get set up. The rain slowed us down, and I had to make two trips into Taylor to get all the beer and equipment out there. With an expected attendance of 300+, I knew we didn't have enough of our beer. Thankfully LoneRider Brewery of Raleigh provided two kegs (Shotgun Betty and a new Peacemaker Pale, both superb) to help compensate for the fact that 32 is still brewing five gallons at a time.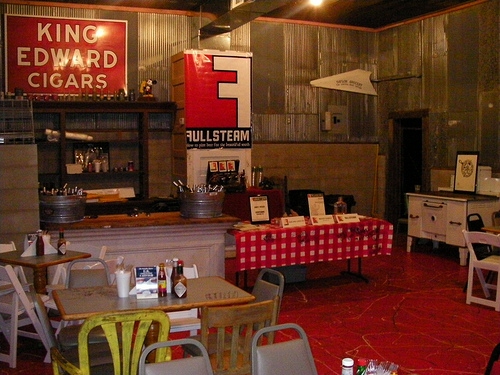 Unfortunately, 32 couldn't be there due to family obligations. Filling in superbly is the multi-talented Dean McCord of Varmint Bites. I was so thankful to have Dean's help -- not only in setting up and breaking down, but for talking smartly about our beer to the hundreds of attendees. There's something about service-oriented people and how they know how to break down the talking points  of a beer, food, or wine. Maybe it's the lawyer in him. Either way, it was a huge asset to have someone knowledgeable about our offerings.
Needless to say, the evening was incredible. We ran out of our beer very quickly, with the last holdout being the 12 gallons of Scuppernong Sparkling Ale. I don't know who's still reading this, but here are five lessons learned from the Friday event:
People love saying "Rocket Science."
A surprising number of people wanted one thing and one thing only: a full pint of IPA. For beer drinkers, there's just something about IPAs that gets under your skin. I don't think anyone chose IPA out of default. We ran out of Rocket Science in about 15 minutes...the first beer to go.
Even foodies think Sweet Potato ale is going to be "sweet." I don't yet know if that's a good thing or a bad thing -- I so love defying preconceived notions, but I'd hate to sell this beer short.
Fullsteam (the Carolina Common) is somewhat difficult to explain in a soundbite setting. Consider we intend for this to be our flagship beer, I'm thinking a lot about this right now.
We should have brought Hogwash.
SATURDAY: Meat and three (pounds heavier)
I overdid it the next day. Phoebe Lawless of Durham's Scratch Artisan Bakery started the day off with her famous donut muffins, liverwurst sammiches, and honey crisp apples. (Support her at the Durham Farmer's Market!)
The lauded, egalitarian NYC chef David Chang (Momofuku) presented an amazing lunch, complete with Crack Pie. Look it up, then FIND ME SOME FOR THE LOVE OF CHRISTMAS I NEED MORE
New Orleans-based Cochon concluded the meat-and-three feast with a dinner of roasted goat (complete with goat liver, which I tried), with sides from Jim 'N Nicks.
Jeff over at Green Olive Media has some killer pictures of the lunch and the dinner.
SUNDAY: time to head home
I missed the final brunch and the benediction by Roy Blount, Junior on Sunday. I needed to head back to North Carolina -- after all, this week we should get our building permit and begin to put in to place this vision of ours. Still reading? Thank you. I appreciate it! There's more to read if you want -- Monica Chen of the Herald-Sun wrote a nice piece on our little brewery-in-planning.
MEGA POST COMPLETE!
except for one final thing...I spotted this on the way home: